Video Debrief - How to load videos
From Hobbyist Software
There are lots of ways to load videos.
Sadly - Apple doesn't let us just connect a camera and access the videos directly, but it isn't too painful to work around those.
Dropbox or Google Drive
If you have a fast wifi connection, and saved videos, Dropbox or Google Drive are great.
Just tap on the open icon (bottom left) and pick Dropbox or Google Drive.
Videos you made with your iDevice
These are already on your device, and are easily accessed.
Just tap on the open icon, select 'Albums' and you can pick a video. Video debrief will then transfer it into the library and start playback.
Transfer using an adaptor
If you're in the field, then this needs an adaptor, and a slightly indirect route.
Connect your camera, SD card or similar to your iDevice.

You'll need something like one of these:

Connect your camera/sd card/etc to your iDevice
Open the Photos app
Select 'Import' and import the relevant video.
Now you can go back to Video Debrief, pick the open button and select 'Albums'
Your recently imported video should show up in the 'Import' section.
Transfer with iTunes
Connect your device to iTunes
Select the device
On the left hand side, Select 'Apps'
Scroll all the way to the bottom until you see the 'File Sharing' section
Select 'Video Debrief'
Drag files to the 'Documents' area.
You will now be able to open those videos from the 'Open/Library' option.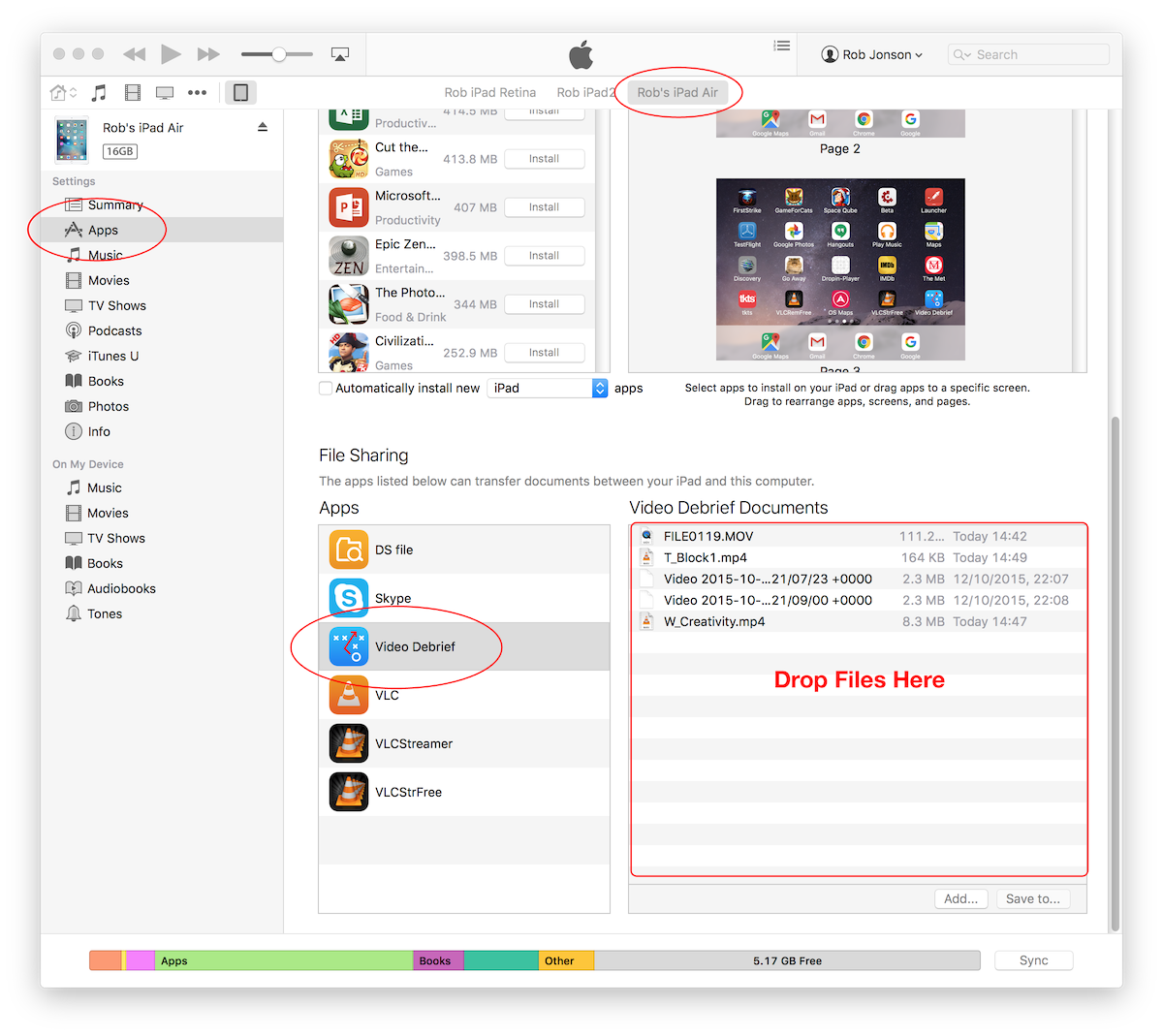 Transfer with your web browser
Your device and computer must be connected to the same wifi network
The wifi network must allow devices to communicate

Most home networks allow this automatically
Public networks frequently block communication
If communication is blocked, then you may be able to set up an ad-hoc network (personal hotspot) with one device, and connect with the other

Tap on the 'open' button in Video Debrief
Tap on the 'Transfer' button
Open the displayed URL (address) in the web browser on your computer
You should see a Video Debrief interface
Drag the videos to the upload page