Sometimes, the helper app (VLC Streamer, VLC Remote, Off Remote, etc) won't install.
If you get a message like the one below, then this page is for you.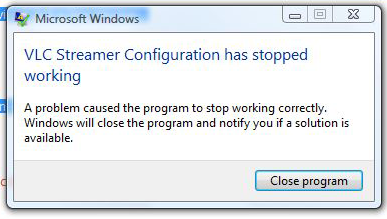 normally, this means there is a problem with your Windows setup, and particularly, with the .Net setup.
Please try these steps which work for most users.
You can try running the installer after each step, as you may not need to do them all.
Fully update Windows
Make sure that your Windows install is fully updated.
If you are using Windows XP, then you need to update to service pack 3.
Uninstall and reinstall .Net
Reinstall .NET (.net gets corrupted surprisingly frequently)
Uninstall .NET using the add/remove programs control panel. There may be multiple installs; Please uninstall all versions.
Reinstall .NET from here
) reboot (this step is important)
Run the .net cleanup tool
This is a Microsoft tool to clean up a corrupted .Net install.
Download the cleanup tool here
when you run this tool, simply select (all versions) and click on 'Cleanup Now'.
You can read more about this tool here
That's it
These steps sort most issues with install problems (and leave your Windows installation cleaner and sparkly). If they don't help, then get in touch and we can figure out next steps.